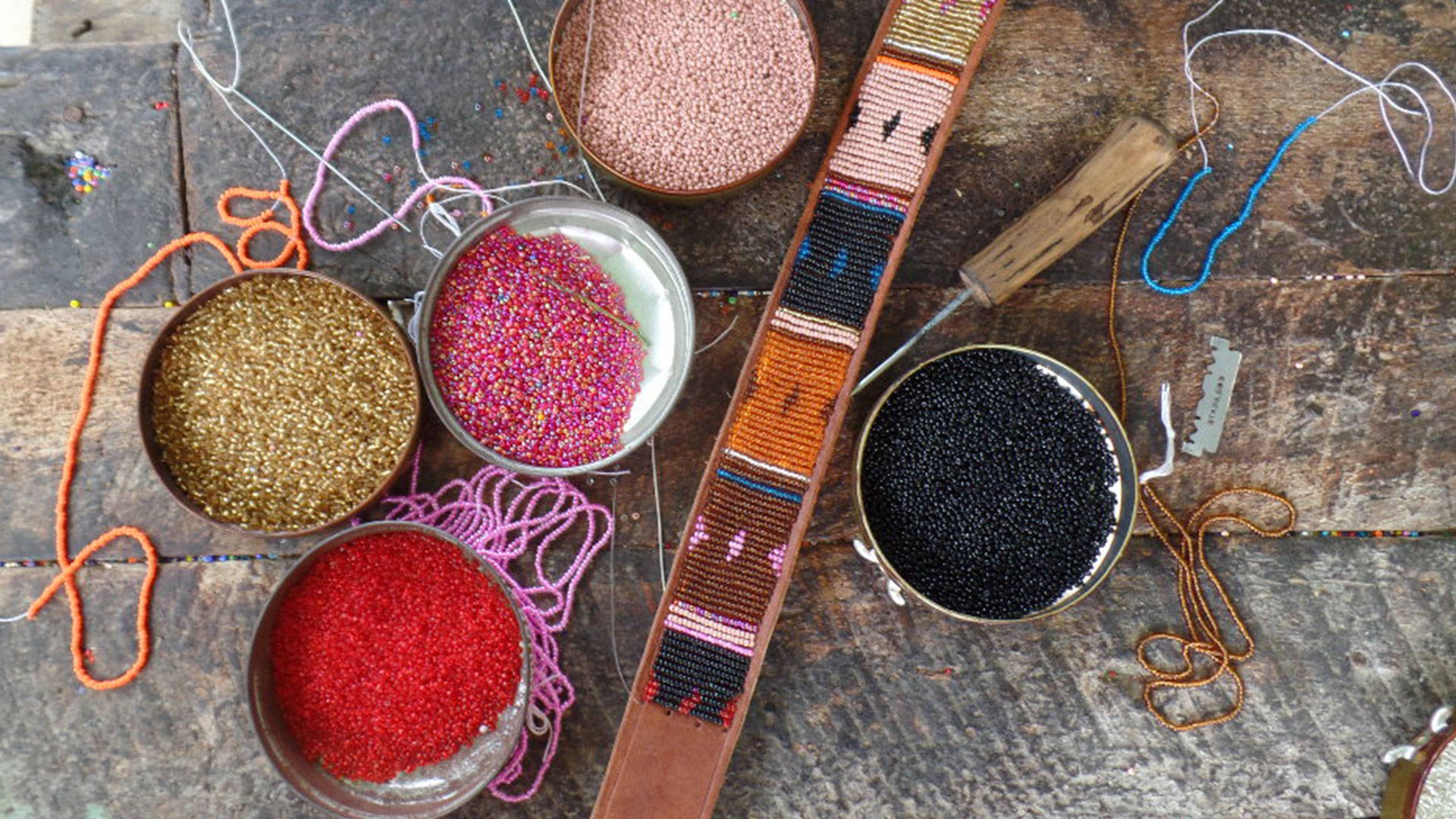 ---
Designed in London and handmade in Kenya and India.
All of our beaded belts, sandals and bags are crafted by hand, hours of work goes into making each item. Individually, each product has a unique and distinctive look.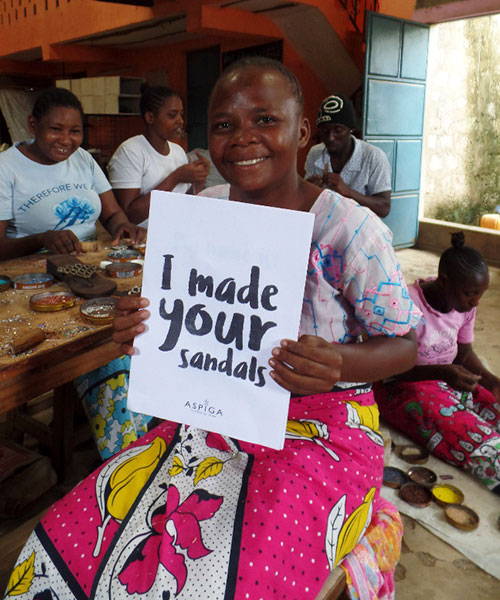 The beadwork for our Kenyan Sandals, can take up to 3 hours per pair. The craftsmanship takes precision and the process involves artisans sorting the beads and threading them into complex patterns then sewing through punched holes directly on the leather.
The leather is bought in a tannery in Nairobi. Our supplier dyes it and leaves it in the sun to dry. The leather is then hand cut with a strong knife for the uppers and the same for the rubber soles. The beads are stitched to the leather upper design which is then attached to a leather backing. The beaded upper is then fixed to the rubber sole.
---
---
Our belts require the same dedicated process and are also made by hand, taking an entire day to create.
The production process of our belts and sandals truly is an art.
With products that require so much expertise to create, we choose our suppliers carefully. Currently, we collaborate with five Kenyan suppliers who make our beautiful sandals, belts, and Kikoys.
We work exclusively with small workforces who only employ people of an appropriate working age, pay a fair wage, treat their employees with respect and provide good working conditions.
---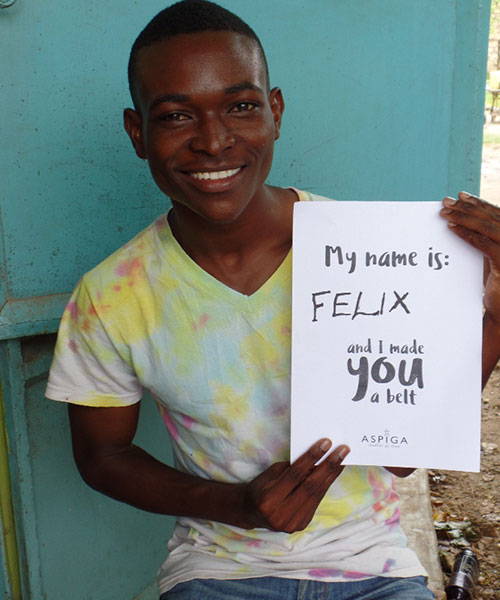 Read what some of our suppliers have to say about working with Aspiga:
"I have been making sandals for Aspiga for six years now and each year we get steady orders that we are happy about. We recruit unskilled men and women (most of them are of the following tribes: Massai, Kikuyu, Giriama, Taita and Luo), we then train them in beadwork and sandal making. The ladies do the bead work and the men work with the leather and rubber. 90% succeed within 2 weeks. Most workers have been working with us for over three years and have either purchased small farms in their villages, invested in cattle, or are educating their children through primary and secondary schools. We assist them with small interest free loans periodically and also subscribe to a government retirement agency for most of them."
---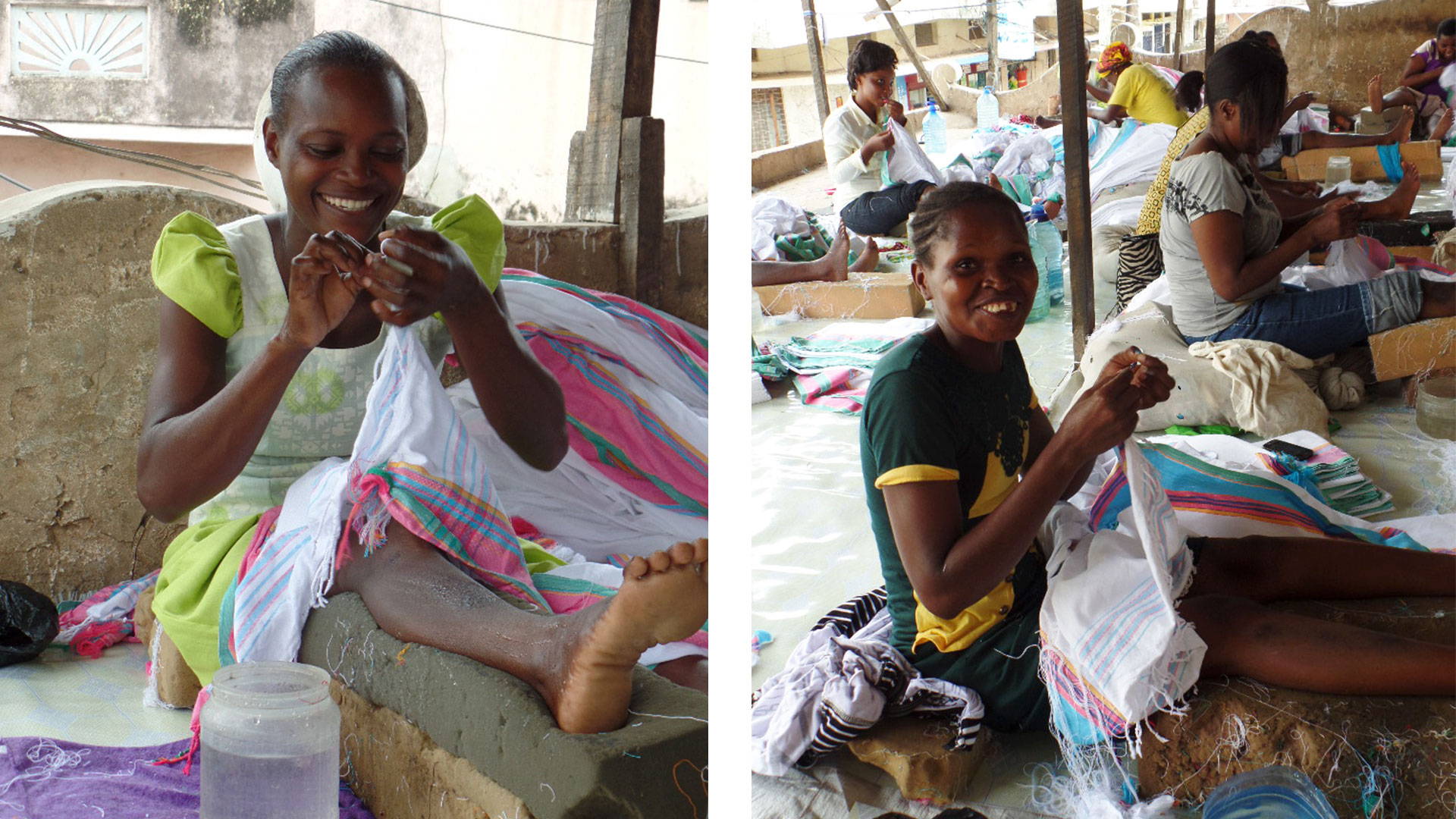 "We have been working with Aspiga since 2008 and each year our quality has gotten better. When we started working with Aspiga, we were very small and all the work was done in the back of our house. Due to the work we have received from Aspiga, we have now built a small factory and are very pleased with the large orders we receive. I now employ 35 local people in my small town and pay them all fair wages. I also give them food when they turn up to work in the mornings. I am grateful for the work we receive from Aspiga."  
Our embroidered collection is designed with a wild at heart bohemian girl in mind, our collection includes breezy maxi and midi dresses, skirts and shirts, in timeless silhouettes with bold embroideries and tassel detailing, perfect for the free spirited traveller.
---

We strive to do business in a more enlightened way and to act in an ethical manner, by paying our suppliers fair prices and paying them on time. We ask our suppliers to pay their staff fair wages, provide safe working conditions, treat their employees with respect, and not employ people under the minimum working age.
---