Recipes - Sea bass Speciality
We love Jane Lovett. Her recipes are so quick and easy and this is a firm favourite for a delicious, quick and healthy supper.
'Contemporary, stylish, easy and uncomplicated' best describe Jane's recipes. They are attractively presented, full of tips and many of them can be prepared well in advance.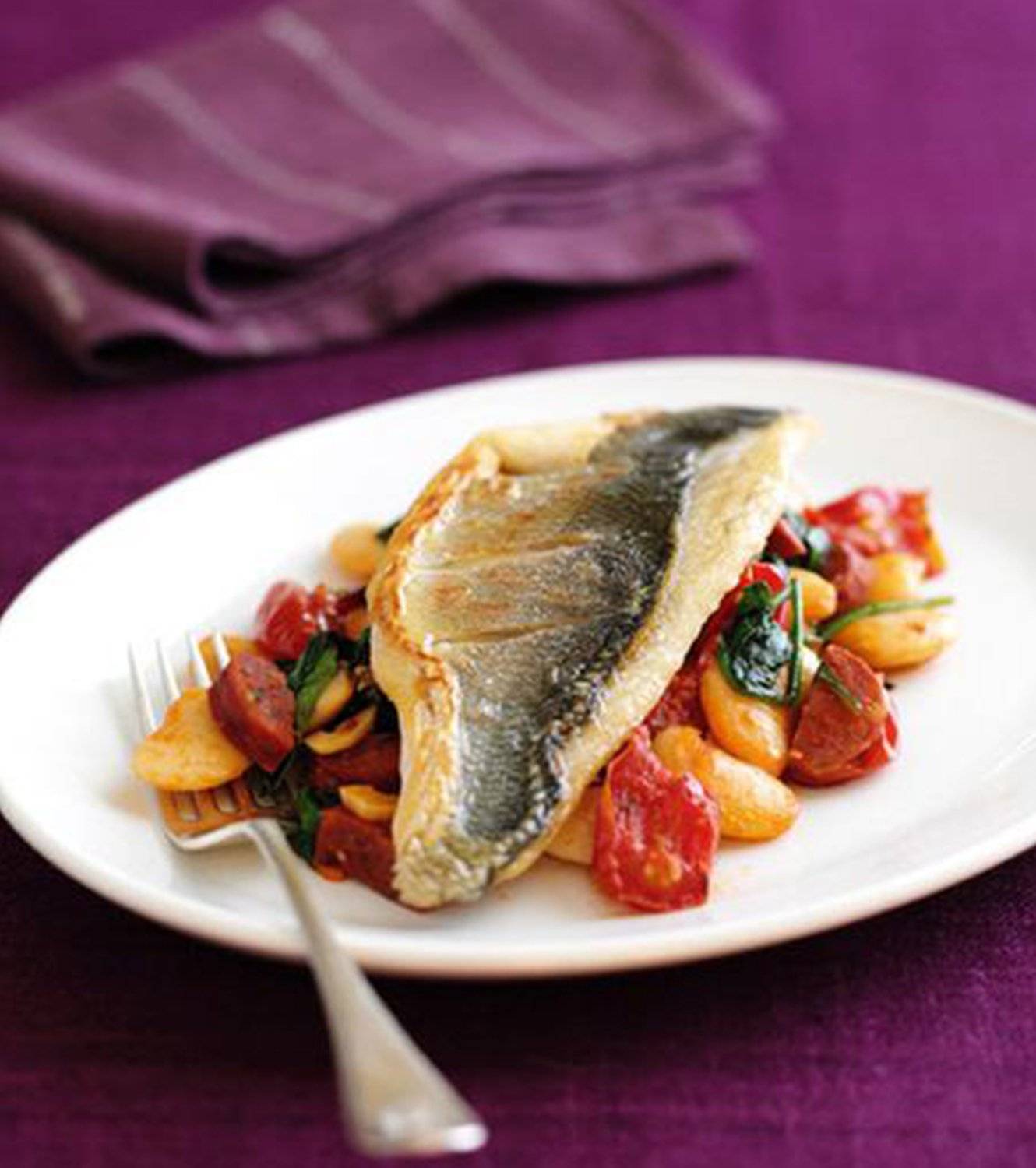 Serves 2
Ingredients
2 large fillets of sea bass, scaled
10 cm (4 in) cooking chorizo, halved lengthways and sliced ½ cm (¼ in) thick
8 small cherry tomatoes, halved
A pinch of fresh or dried oregano
Olive oil 1 clove of garlic, peeled and sliced thinly
1 tin of butter beans, drained and rinsed well in a sieve
Salt & Freshly ground black pepper
2 large handfuls of baby spinach, washed
A squeeze of lemon juice
A knob of butter
Method 1.
Slash the skin of the sea bass fillets twice and snip the edge of the skin in one place to help stop it curling up when cooking. Set aside. Warm two plates.
2. Cook the chorizo in a dry frying pan for a few minutes until the red oil begins to run and the chorizo is sizzling. Add the cherry tomatoes and oregano and cook for another few minutes until the tomatoes are just beginning to soften. Add a little olive oil, followed by the garlic and butter beans and stir until hot. Check the seasoning.
3. Add the spinach and cook until just wilted. You may need a little more olive oil at this stage. Squeeze over some lemon juice and divide the butter bean mash between the two warmed plates and keep warm.
4. Wipe out the frying pan if necessary, heat a little more olive oil and the knob of butter, season the skin of the sea bass with salt and fry, skin side down first until the skin is brown and crispy about 2 – 4 minutes, depending on the thickness of the fillets. Turn over and cook for another minute or two. (Instead of frying, the sea bass can be baked – place on a foil-lined baking sheet, drizzle with a little olive oil and some salt and cook at 200°C for 5 minutes. Not only is this healthier but it saves washing up too!)
5. Arrange skin side up on top of the butter beans and finish with a good swirl of olive (or lemon) oil over the top. A sprig of oregano would be good too. Jane's new book The Get-Ahead Cook is now available from her website janelovett.com or follow Jane on Instagram @janelovettcookery
---