Gayle's Edit: Six Dresses For Spring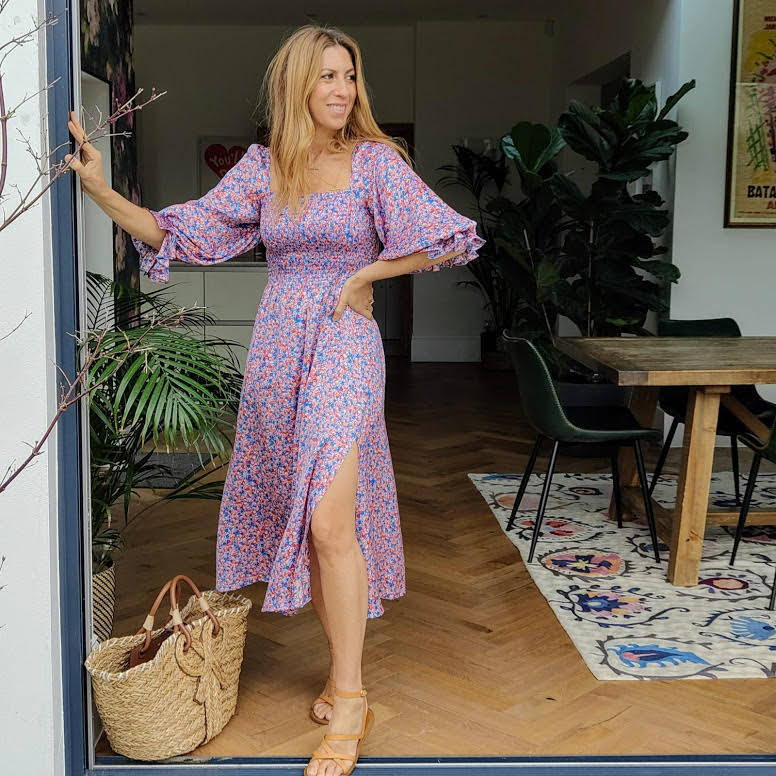 Gayle Rinkoff styles her favourite pieces from our S/S21 collection
Our Spring collection has landed, and we've asked Gayle Rinkoff (@gaylerinkoff) to talk you through her 6 favourite pieces available now! See how she styles each dress ready for Spring/Summer fun, as well as her favourite details worth mentioning.
Gayle has been a fashion and celeb stylist for 25 years, and is now style director of The Voice UK - check out her Instagram here for more styling content, and watch her full styling video for Aspiga here.
---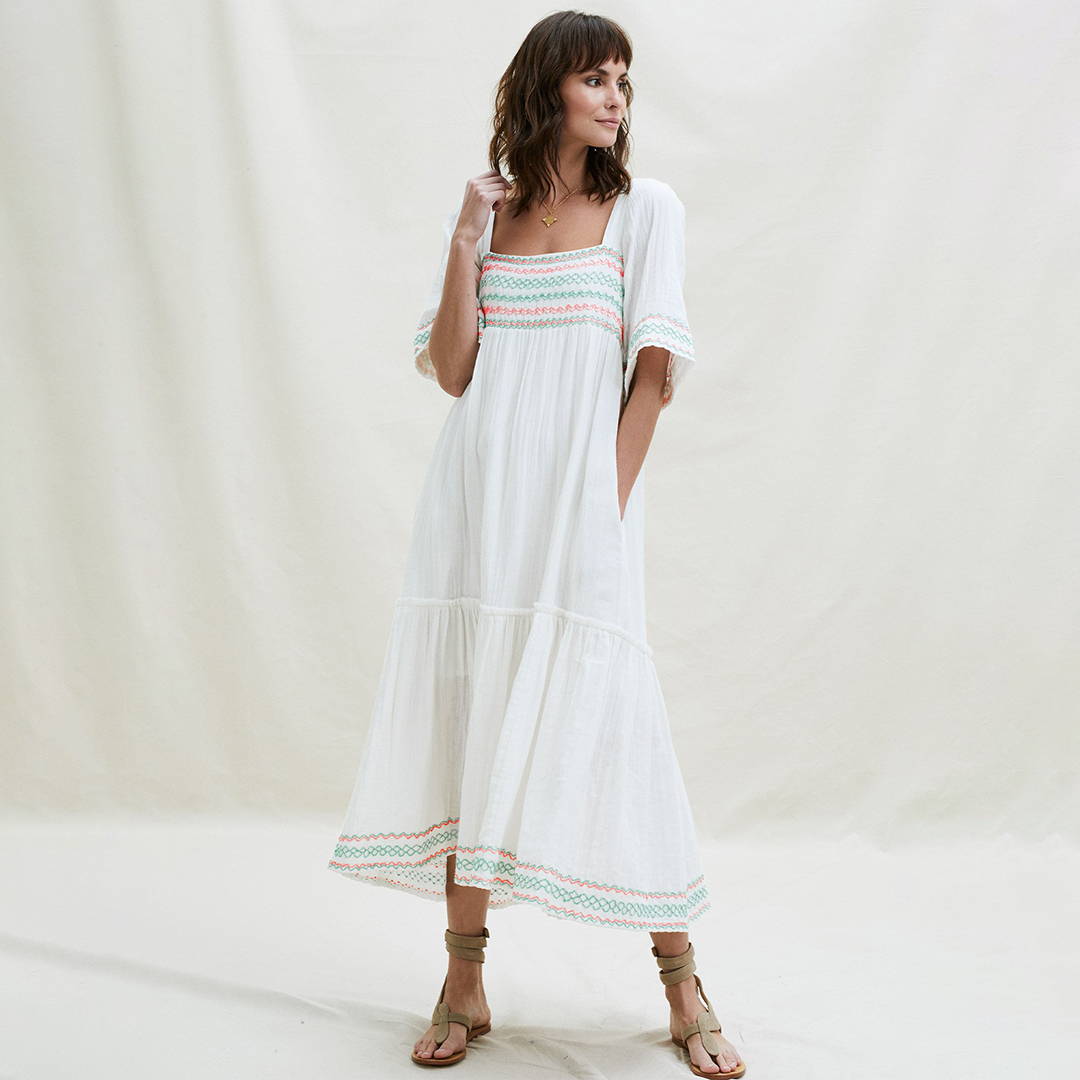 Gracie Embroidered Organic Cotton Maxi Dress in Ecru/ Sage/ Peach
"Definitely in my top three of all the dresses! Made from 100% Organic Cotton and so soft - it feels like a holiday, beachy material which is so easy to wear. It has a gorgeous combination of pale coral and sage green on the embroidery round the hem, sleeves and neckline - and it has pockets, which is always a bonus! It just moves so beautifully."
---
Nancy Satin Puff Sleeve Shirred Midi Dress in Ditsy Blue/ Red
"The Nancy has a shirred bodice, puff three-quarter length sleeves and lovely details - and it's made from 100% sustainable viscose. I think it would look great with a biker or denim jacket over to bring out the blues, pinks, corals in the ditsy floral print. A really gorgeous dress that feels lovely on!"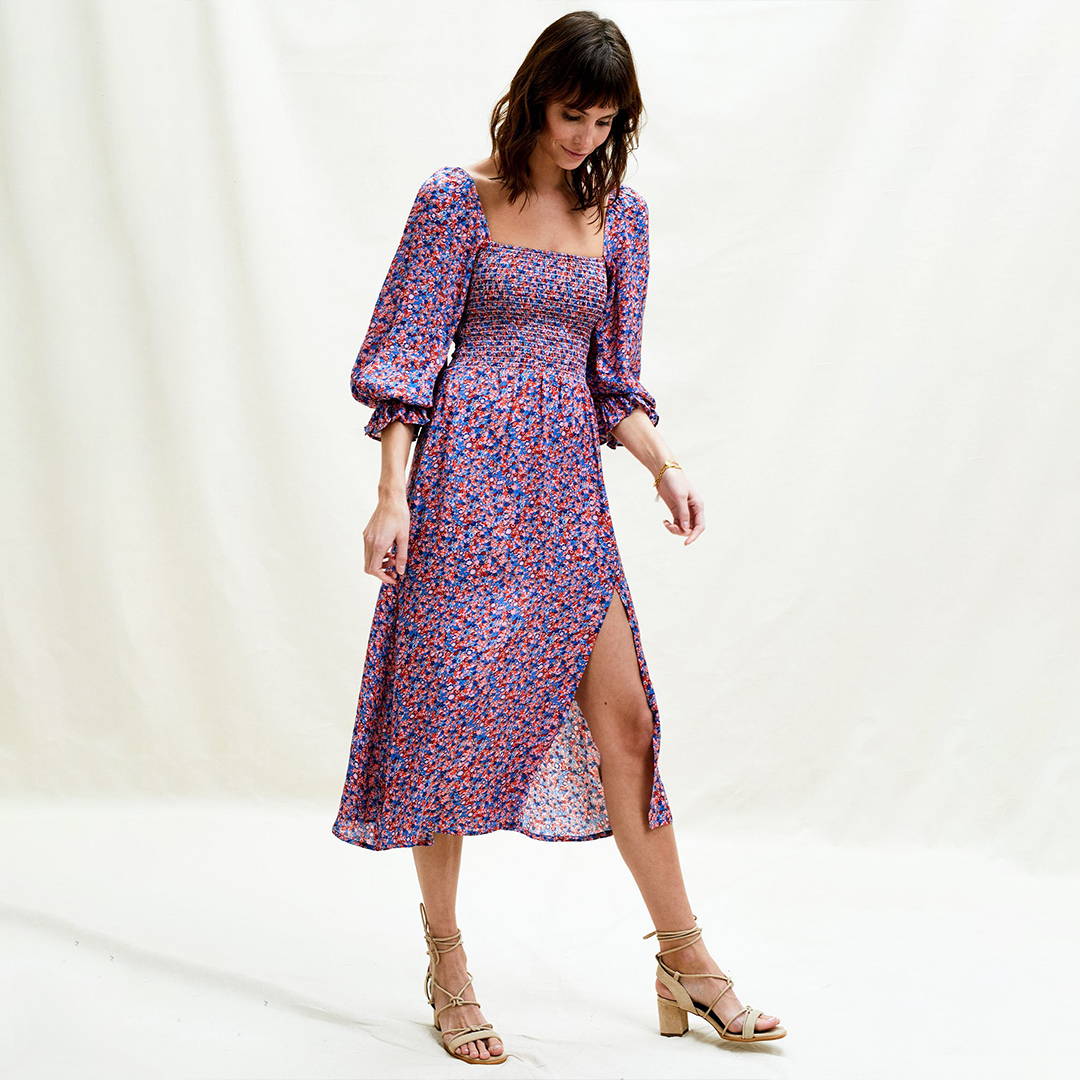 ---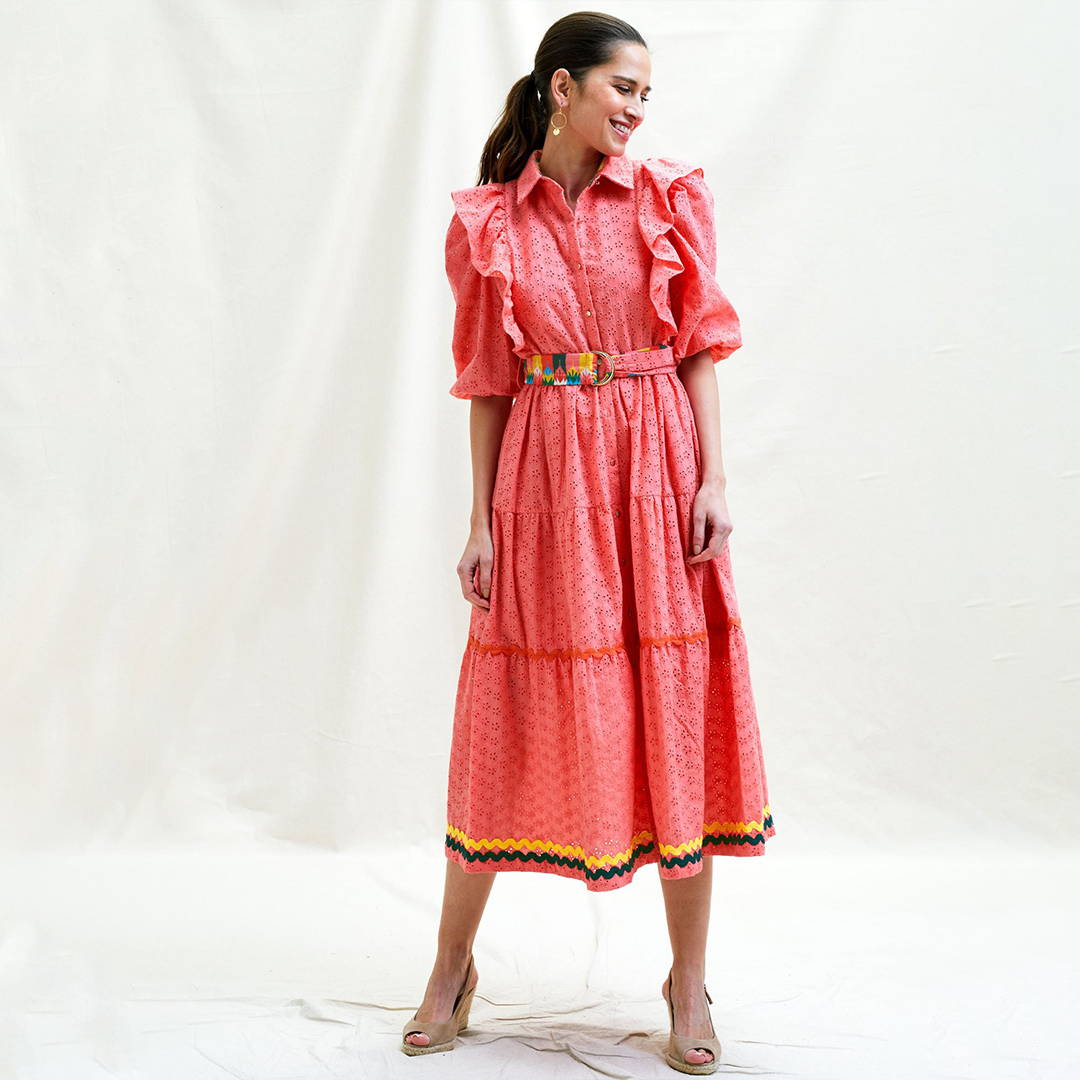 Holly Cotton Midi Dress in Pink
"This ones a little bit special - the colour first of all is such a great coral, and the ruffle is lovely. It also has beautiful detailing on the collar and belt, and a lovely ric-rac hem. It has buttons going all the way down, so it's like an amazing elevated version of a shirt dress. It's gorgeous, and it comes in a dark forest green colourway too, so check out what works best for you."
---
Sophie Cotton Midi Dress in White/ Pink
"I was drawn to the colour on this dress - it's a bright fuchsia with white, and it has the most gorgeous detailing and fluted three quarter sleeves. It sits just below the knee, but I've styled it with a belt and pulled it slightly up so it's above the knee which I think looks best on me, and it still works and has such lovely movement. Overall just a gorgeous summer dress!"
---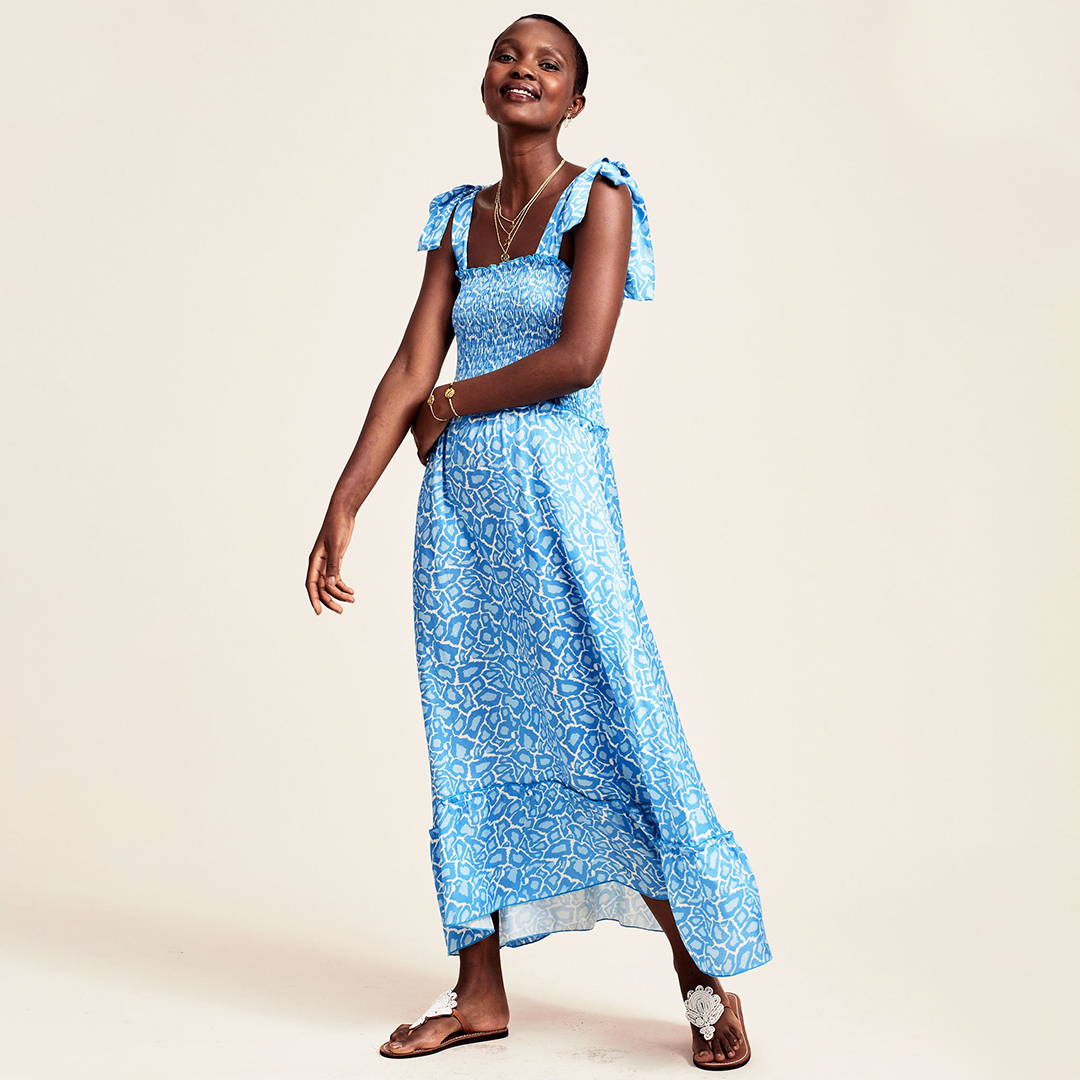 Alexa Satin Midi Dress in Blue
"My next choice is amazing, it has a wide shoulder strap to cover your bra, a nice length that comes down to mid calf - overall a great summer dress made from sustainable viscose! I would wear it with a denim jacket, which most of you will have in your wardrobe, and a basket bag."
---
Naomi Embroidered Lace Organic Cotton Midi Dress in Dusty Pink/ Cream
"My final choice is a really pretty sundress, I've gone for the pale pink but it comes in a light blue and a navy also. It's a really lovely length and is made from 100% organic cotton - it's also fully lined, which I know a lot of dresses in the summer that are cotton can be see through, but this one is not! I would wear it with a cropped blazer/ jacket and another basket bag."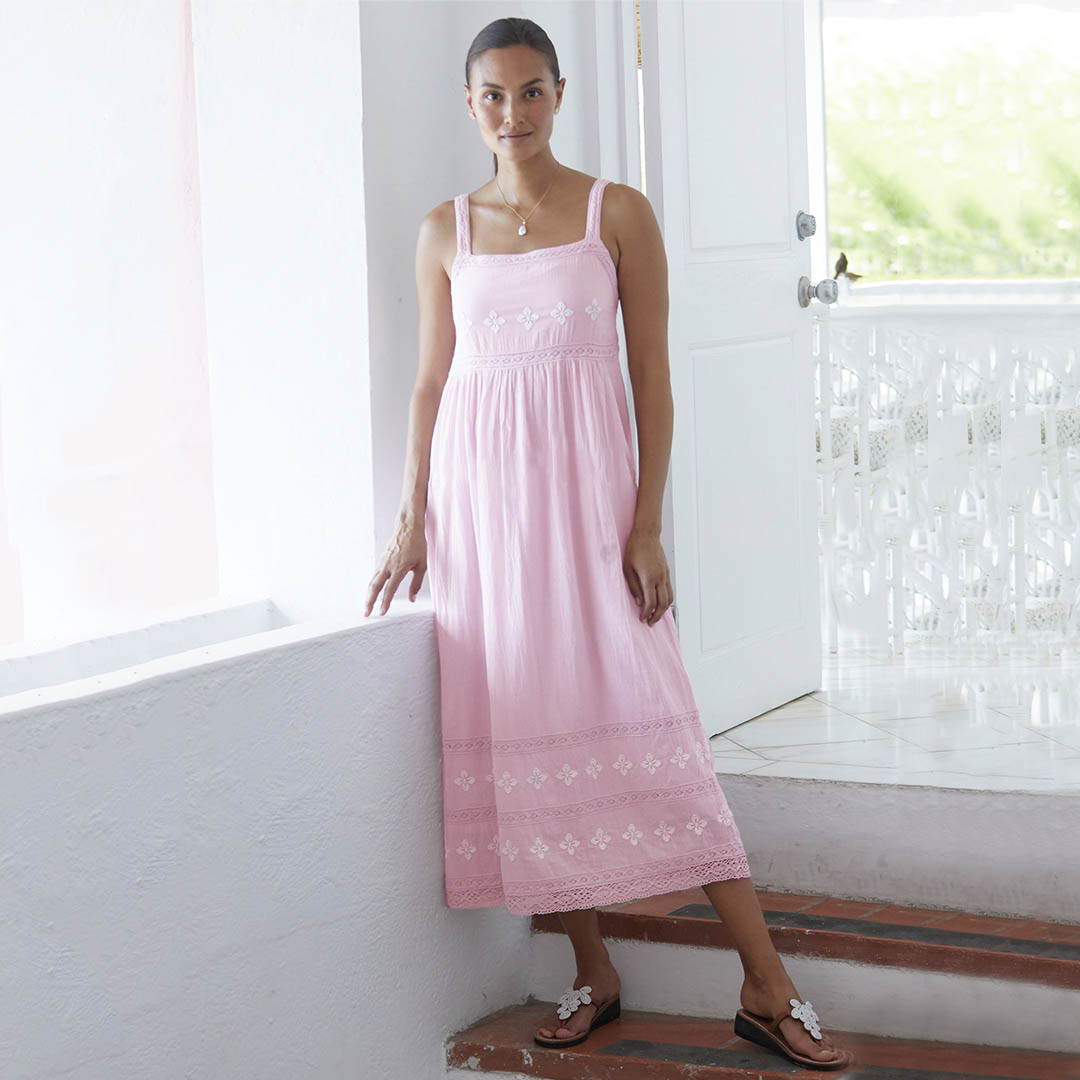 ---
"Thanks for watching and I hope you enjoyed my edit for Aspiga, do check out the website as I only chose six things - such a difficult choice to make! They have lots of incredible things, and as brand Aspiga are doing incredible things."

---
Let us know your thoughts on Gayle's Edit - tag us at @aspigalondon
---