Top 30 Sustainable Gifts From Aspiga
Sustainable and ethical Christmas gift ideas for all the family! Check out our top 30 eco-friendly pressies from Aspiga.
With sustainability at the forefront of global news, shopping mindfully is more important than ever, especially at Christmas.
Did you know that each year the UK alone uses over 227,000 miles of Christmas wrapping paper which can't be recycled? As well as a gorgeous range of eco-friendly gifts, we also have a great sustainable alternative to Christmas packaging waste. Our 3-in-1 fabric gift bags (left) have been made from leftover material from our factories and are super pretty, in three prints. They can be re-used year after year or repurposed to store your knick-knacks.
See below for the Aspiga one-stop-shop for sustainable Christmas gifts with our top thirty eco-friendly guide.
Our best-selling necklace is a great gift for your loved ones. Designed in London and handmade in India on a 22-carat gold plated chain, this necklace features cubic zirconia encrusted charms and comes packaged in a sari inspired, silk jewellery pouch for a luxurious gifting experience.
Just because they're essential doesn't mean they can't be stylish - our sets of 3 face coverings come in lovely designs and are washable and reusable so you don't need to buy disposable ones. They are made by our sandal workers in Kenya, who were left without work due to the pandemic.
Versatility meets style with our ultra-warm snood; perfect for long Christmas walks and impromptu trips to the shop - just pull it up as an instant face covering. The snoods are made from super soft organic Merino wool which is durable and naturally decomposes at the end of its long life.
For those that love hoop earrings, look no further than our beautiful gold hoops designed in London and handmade in India. Featuring 22-carat textured gold plated with hypoallergenic sterling silver hooks finished with 3 beautiful Labradorite circle gemstones. They're the perfect everyday staple - whether you dress them down with jeans or up with a dress.

There's nothing better than spending Christmas morning in comfy pyjamas, sipping tea and eating chocolates. Our best-selling pyjama set is made from super soft organic cotton that keeps you warm with long sleeves and trousers.
Our sell-out knee high boots make a great gift - a classic look that never goes out of style, reimagined in a vegan leather alternative for lovely sustainable footwear. The uppers and soles are made from 100% recycled PL, PU (polyurethane leather) or rubber, giving a second life to a material that's not biodegradable and would otherwise end up in landfill or the ocean. Despite this, they don't compromise on luxury - the boots look and feel the same as normal leather. Pair with jeans and skirts for easy styling.
If you're not sure what to get her, you can't go wrong with the Aspiga wrap dress which flatters every body shape. These are our best-sellers, and perfectly fit every body type. They come in six easy-to-wear leopard print colourways and are made in soft, lightweight, breathable fabric with a cascading frill detail at the front.
You can't go wrong with the Carrie Blouse. This flattering style pairs easily with jeans and leggings and comes in a luxury organic Cotton Dobby fabric. Featuring a pretty frill-framed collar, v-neckline, and button-down front that suits all shapes.
Crossbody Soft Beaded Bag
These pretty hand embellished sparkling glass beaded bags are perfect for both day and night. The detachable leather transforms them into chic clutch bags for evening.
Harem Organic Cotton Trousers
Loungewear has never been more popular and our best-selling Harem Trousers are ideal for teens, mums and Grans alike! They are made from soft organic cotton and feature an elasticated waistband and ankle hem for complete comfort. At a time when we're all staying at home, more stylish loungewear is a gift that can't go wrong.
Beautiful handmade jewellery perfect for everyday and occasion wear is the ideal gift for a loved one. Choose between teardrop earrings and a delicate stone necklaces, or buy a matching set of both for a real wow-factor.

You can't go wrong with a pair of slippers at Christmas. These camel brown ankle slippers are luxuriously soft inside with a sheepskin interior. Available for all the family, including kids.
Happy Organic Cotton Cropped T-Shirt
Designed to delight. Bring a little colour to everyone's wardrobe with this relaxed fit design and positive slogan! Our Organic Cotton Happy T-shirt is guaranteed to brighten up any outfit.
In December we will donate all the profits from our Happy T-shirts to the Crisis this Christmas appeal. Crisis supports thousands of homeless people, this year they will be securing housing in hotels and student accommodation as well as organising hubs for food, clothing and gifts.
Our iconic Kenyan Sandals are a brilliant gift with purpose. For every pair sold, we collect a basket of plastic from Malindi Beach. The clean-ups take place every month by a group of 12 children who Aspiga supports in their education. To date the Aspiga beach clean-ups have collected 4,579kgs of plastic from Kenya's beaches which is then sent to the local recycling centre in Watamu.
Our sandal collection is beautiful and the perfect gift for winter sun getaways. The sandals themselves are made by local artisans, which helps to keep their craft alive and to maintain their livelihood.
Slippers are a man's best friend - although they may not buy them for themselves, they will love this toasty gift. Our suede slippers have the most luxurious sheepskin lining and come in the classic slip on shape.
Dressing up for Christmas dinner is made easy with this smart-casual organic cotton shirt in four different prints.
A Christmas gift staple - Socks! Guys always love a new pair of socks, and this year you can buy a box of three, in cool prints and in super soft, sustainable bamboo fabric. They're fun, breathable, naturally antibacterial and anti-fungal, so their feet (and the planet) stay happy and healthy.
For the coffee and tea addicts out there, encourage an eco-friendly approach to their daily habits with a reusable mug perfect for travelling or staying at home. They're made out of sustainable bamboo fibers and come in a range of colours.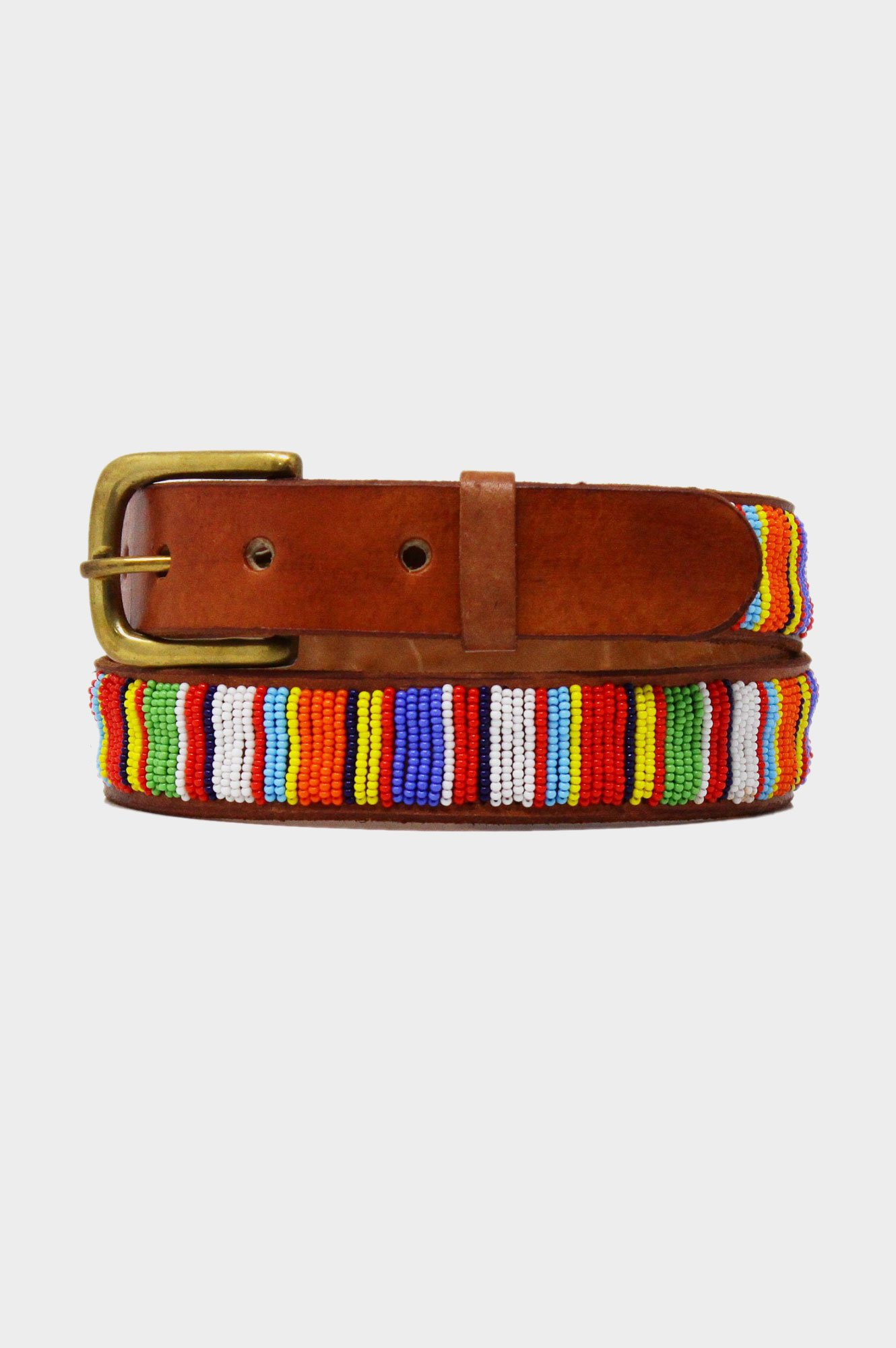 Vertical Full Beaded Stripe Belt

Functionality meets style with these Kenyan handmade, intricately beaded belts. The leather comes from animal byproducts, it is sourced from a tannery in Nairobi and the leather is dyed and sun dried by talented artisans. They are works of art taking an entire day to create one belt. No two are ever the same.
These beautiful Maasai glass bracelets and anklets make the perfect stocking filler. Each one is handcrafted in Kenya using traditional techniques by expert artisans.
A cute long-lasting gift, which also helps fight poverty through trade. These leather and glass beads (not plastic to minimise the impact on the environment) are part of our sustainable fashion collection: supporting Kenyan artisans keeping their craft alive and helping to maintain their livelihood.

Versatile and cute, a scrunchie is the perfect stocking filler present. They'll love our range of fun colours and prints - and seeing how many they can stack on one arm at once! We've made them using leftover fabric from our Spring Summer 2020 collection, which prevents waste fabrics from being sent to a landfill and extends the lifetime of the fabric through upcycling.

A perfect gift for gap-year-travellers, a Kikoy towel is the ultimate in African accessories. Not only ideal for the beach but they also double up as a scarf or picnic rug or colourful furniture throw. This is a traditional East African garment, hand woven with 100% cotton. The cotton has been grown and harvested in East Africa and the distinctive tassels are hand knotted by skilled artisans.
Treat your furbabies to a beautiful new collar made from glass beads and left-over leather. Our artisanal workers in Kenya hand cut and stitch every detail, making them part of our initiative to support local Kenyan workers keeping their craft alive and helping to maintain their livelihoods. We have a range of colours and sizes to ensure you find the perfect fit for your pooch.

If you still can't decide why not buy your loved one a gift card so they can shop at their leisure and choose their own sustainable gift? They start from £25 and go up to £100.
Happy Christmas shopping. Thanks for reading and we hope you've enjoyed our selection. If you do buy our sustainable gift bags we'd love you to spread the word on social media and help reduce unnecessary waste from going to landfills. Don't forget to tag us so we can reshare!    
And finally, we are pleased to announce our returns policy has been extended until the 10th of January.
Lots of Love,
Aspiga xxx
---