October 2020
WITH LOVE, IN THE TIME OF CORONA
Hello,
It's Lucy here, the founder of Aspiga! I started this rambling chat during the Lockdown, offering suggestions of things to keep us busy, healthy and happy. It was so well received that I am carrying on for a bit, every other month or so, and as we head into Winter I thought it appropriate to update you with our news.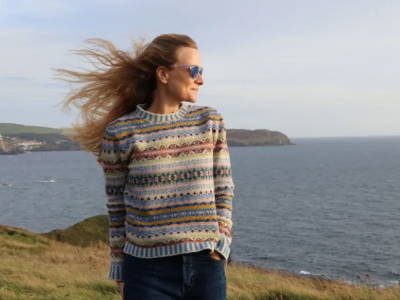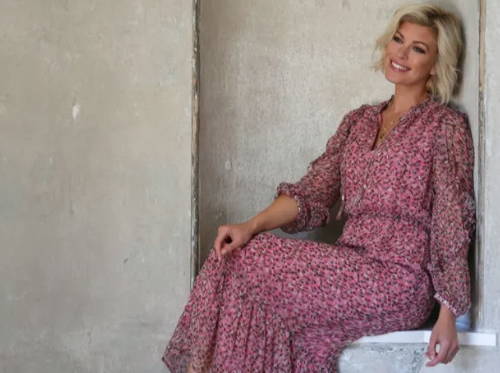 PHOTOSHOOT
The highlight of last month for me has been doing our first location shoot in the UK. The wonderful model was a customer (DJ Sally) who visited our shop a few times in St Maws. We shot on the beautiful Gannel Estuary and then onto an equally beautiful house, kindly lent to us by another wonderful Aspiga customer.
POP-UP SHOP
I then went on to visit our Pop Up Shop In St Mawes, which we opened in August, (presently in the Onda shop, which is owned by the wonderful Tresanton Hotel). It has been so successful that we are excited to announce we will be staying there until at least Easter next year!
Address:
Aspiga at Onda, 14 Commercial Road, St Mawes, TR2 5DN
Opening Hours:
Monday - Thursday: 10:30 - 18:30
Friday - Saturday: 10:30 - 18:00
Sunday: 11:00 - 18:00
I was so taken by the beautiful fishing village and the wonderful hotel. Check out our UK Staycation Blog post here. I can't wait to find the time to go back and stay myself.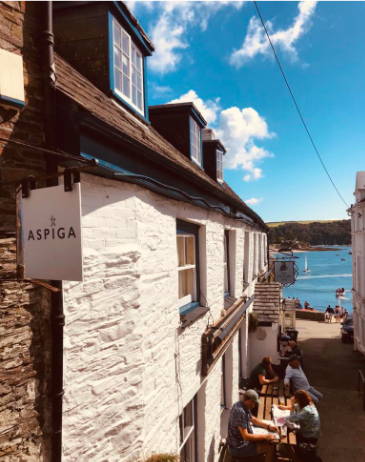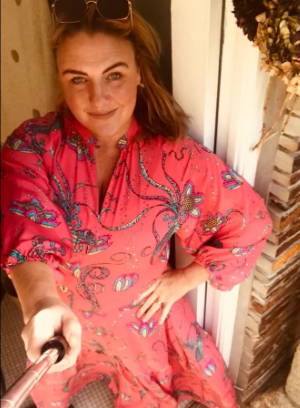 But most of all, I was delighted to meet our Shop Manager, Sarah Bailey (left), who is doing such an incredible job at welcoming all our customers, including celebrity shoppers such as Joely Richardson (right) and taking wonderful photos of so many of our unassuming customers who seem to be stepping up to the role.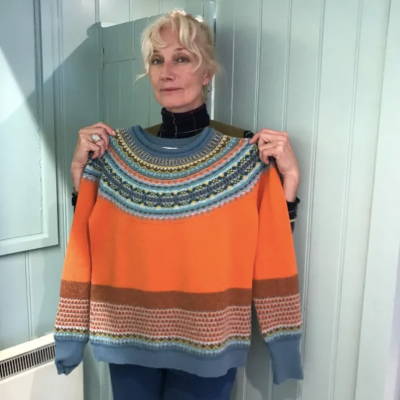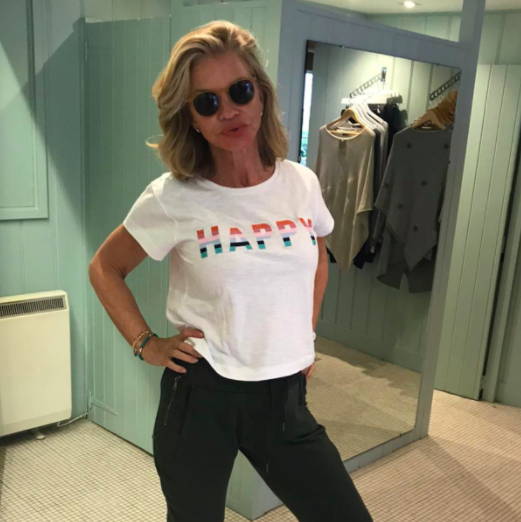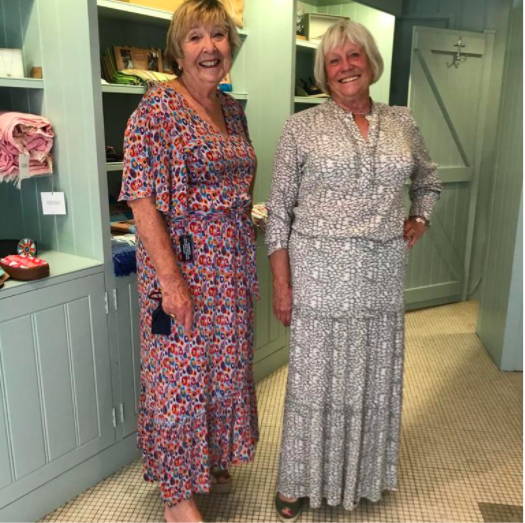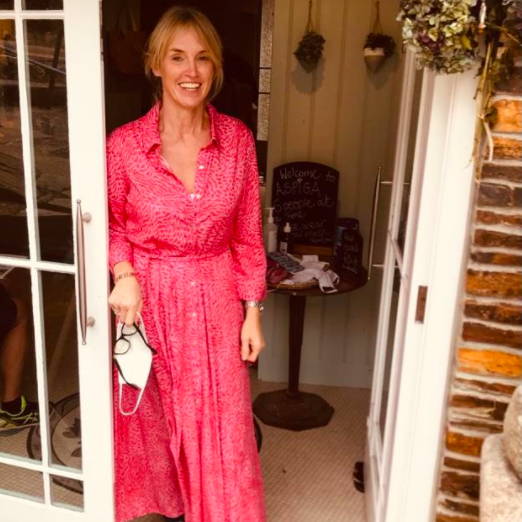 On the subject of Celebs, it was great to see Kay Burley wearing our Guadalupe Kaftan in her recent article for the Telegraph.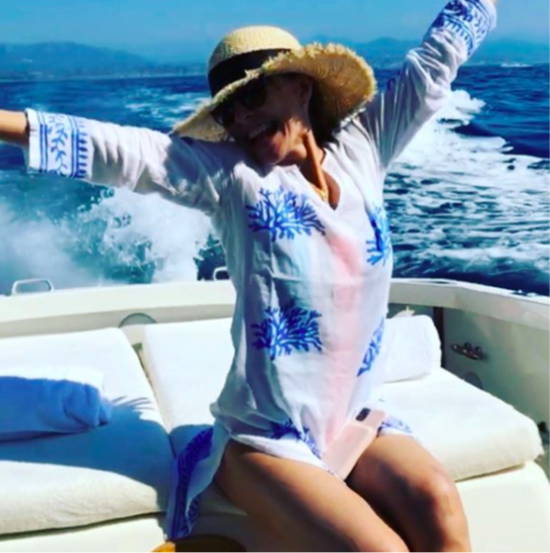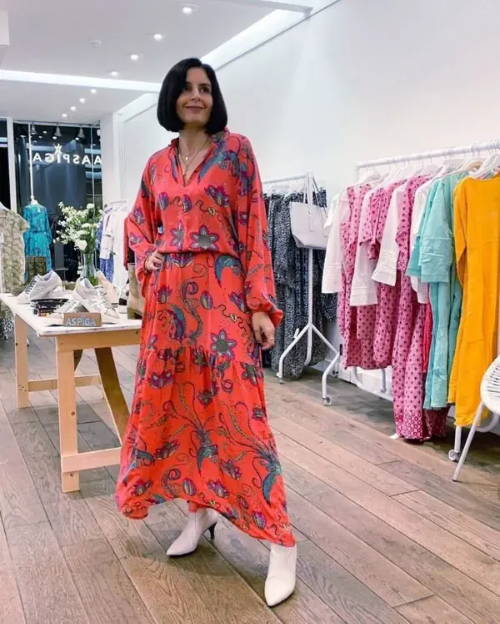 We are also excited to still have a presence in Wilton Shopping Village, with our wonderful neighbour Moe & Co. who are now stocking some of our new collection, as well as a few samples, so those of you local to the area please pop in for a visit.

In September we also had a pop-up shop on the King's Road, London. It was great to meet so many of you and see you try on our new collection. We were joined by many London bloggers and of course we couldn't miss such a great photo opportunity…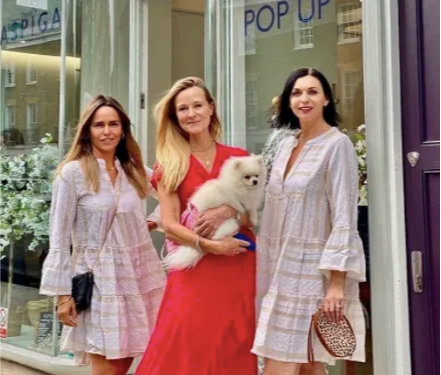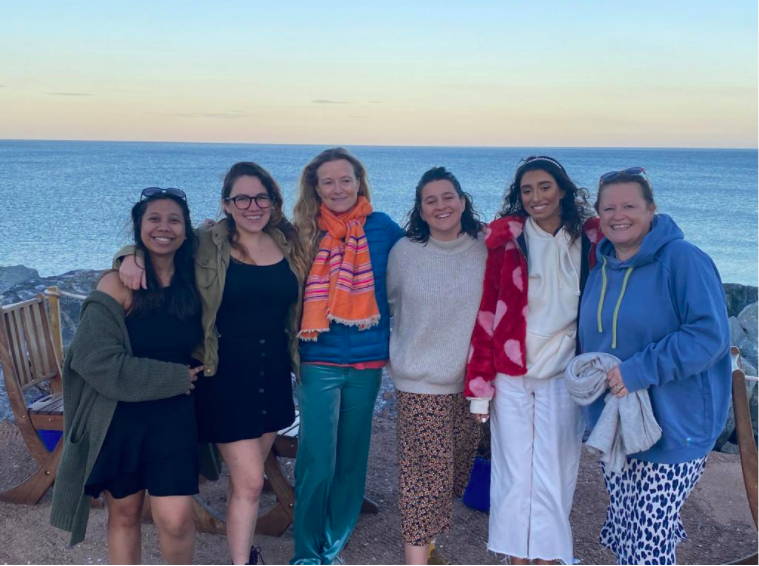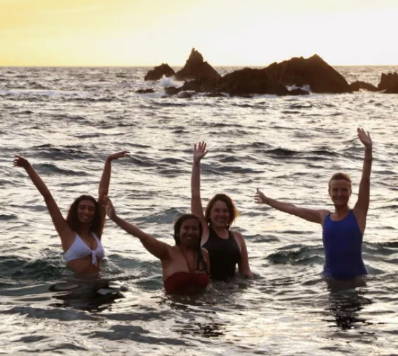 Early in September, we had a team retreat in Devon for a few days, sadly we couldn't sleep the whole team, (so it was just for those who have been with me over 2 years and have been such an amazing support).

It was such fun all working together during the day and then going for coastal walks, followed by sunset swims every evening. I was so impressed how the girls all arrived Sunday pm, enjoyed a cream tea and then were all up for a cold swim, which then became our evening ritual.
I have been so impressed how the ladies running our pop-up shops have risen to every challenge. It's been a new adventure for all of us and I've been blown away. by their capabilities, commitment and enthusiasm they have all shown - they are such a delight to work with.

My team in our London head office are all equally amazing, and seem to be able to cope with my occasional (!) menopausal outbursts. I am delighted to say we have grown significantly this year I am delighted to say we have grown significantly this year, and have recently welcomed six new people into our passionate team.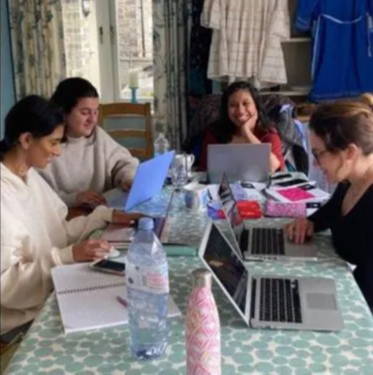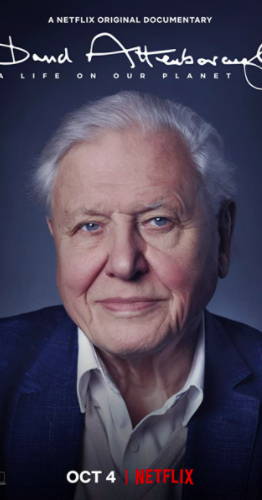 David Attenborough's 'A Life On Our Planet' was one of the saddest things I've seen in a long time. It inspired me, and millions of others, to think about the impact of our lifestyles and to use our voices to inform and challenge others.
As my hero Sir David says "The best ways for us all to look after our precious planet is to reduce, reuse, and recycle."
This is my pledge for the autumn so far:
Continuing to use the Aspiga platform to inspire change.

Wasting less food.

Mainly eating a pescatarian diet - I plan to eat fish weekly and organic meat maybe once a month.

Only washing my clothes at 30-40°.

Trying to get better at coping with the cold, so I don't need to put the heating on so much.

Changing all my bulbs in the house to LED.
When I was interviewed for a podcast this week with 'The Fashion Industry' (coming soon), I was asked "Regarding your life as an entrepreneur, what have been the key lessons for you?". After some thought I replied, "looking after your health and staying strong, to be able to cope with the ups and downs". I feel this is especially important now, more than ever.
For me, spending time outside, whether I'm exercising or simply enjoying the countryside and all it has to offer, is always at the top of my list for physical and mental health. Lately, I've also started focusing on my breathing with the 'Wim Hof 30 Day Challenge'. So I now begin every morning with breathing exercises, followed by a cold shower. For someone that hates the cold, it's been a huge challenge for me and I am only on day five (and the showers are still only seconds not minutes, but its a start..!). Interestingly the benefits of cold water swimming (which we all enjoyed in Devon and felt fantastic from) have hit the news this week. Apparently, it can prevent dementia.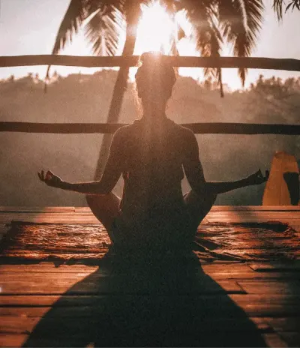 That's it for now, we've got lots of gorgeous new pieces on our website and some great sustainable gifts coming for Christmas so please do have a browse.

Thank you again for your support and custom, please say strong, safe and happy.

Lots of Love,
Lucy
x