Recipes - Banana and Tahini Granola
This issue's recipe comes from Amber Macintosh, a nutrition coach and yoga teacher. We absolutely love her Instagram feed and are thrilled she shared this healthy and delicious granola recipe with us!
Add to your choice of yoghurt and fruit for breakfast and keep in a large kilner jar for all the family to dip into for a healthy snack! Also yummy when the weather gets cooler on hot porridge. This recipe is refined sugar, dairy, gluten and nut free. It is suitable for vegans and those following a low FODMAP diet.
Follow Amber on Instagram:
@dandelionwellbeing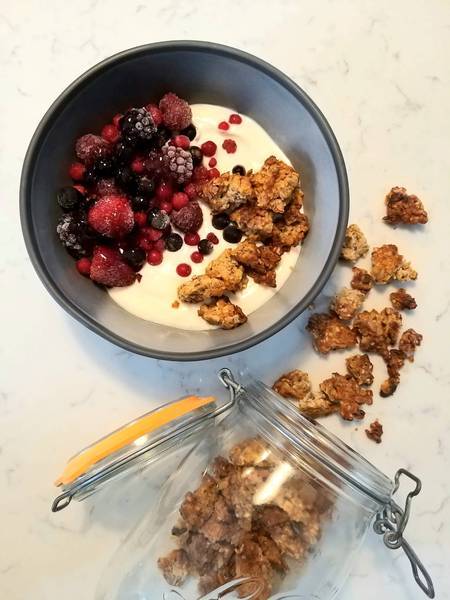 Serves 4-6
Ingredients
1 tablespoon of odourless coconut oil
250g tahini (we recommend Belazu from Waitrose or Ocado)
2 large bananas
2 tablespoons of mixed seeds (sunflower, linseed, hemp & pumpkin)
6 tablespoons of oats
1 tablespoon of maple syrup
1 teaspoon of vanilla paste or essence
Method
Pre heat over to 150 degrees, warm the coconut oil in a large baking tray
In a mixing bowl mash up the banana, add tahini, maple and vanilla. Next, add in the dry ingredients and stir together until you have a sticky thick mixture. Tip this onto the warmed baking try, spreading the mixture out and breaking up into large chunks. Bake for 10 minutes at 150 degrees, take out and break each large chunk in half, bake for another 10 minutes at 160 degrees. Break up one more time and bake at 170 for a final 5 minutes. You will see everything is well cooked when golden, with edges turning brown and all pieces moving when you shake the baking tray.
---