Recipes - Salmon Fillets, Noodles, Courgetti and Asparagus with Tarragon Lime and Caper Dressing
Here at Aspiga HQ we love Jane Lovett and all the recipes in her new book, 'The Get-Ahead Cook'. Follow Jane on instagram @janelovettcookery
The Get-Ahead Cook. This month's recipe is no exception. Photo taken by Tony Briscoe
'A burst of summery freshness - zingy, piquant and delicious! Easy and quick too, eat simply as a light, quick lunch or supper, or dressed up to become a gorgeous show-stopping prepare-ahead platter.'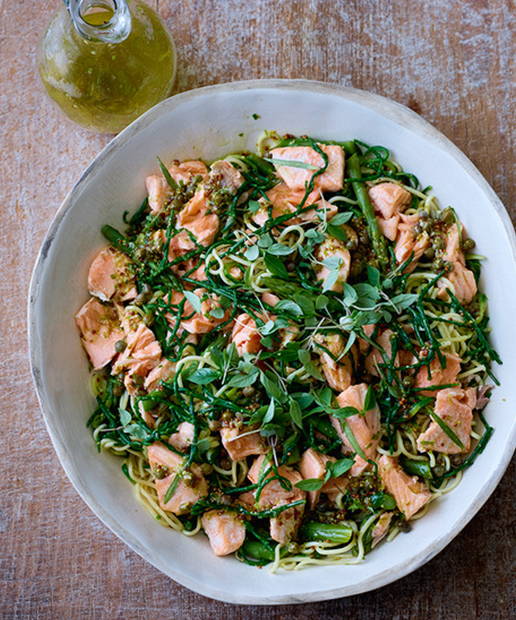 Serves 4 - 6
Ingredients
Olive oil
2 medium courgettes, spiralized
A bunch of asparagus (10 - 12 spears)
100 g (3½ oz) samphire (optional)
4 – 6 x 110 -140 g (4 - 5oz) skinless salmon fillets
A sprig of fresh tarragon
275 g (10 oz) fresh egg noodles
Cress or Micro Leaves to decorate (optional)

For the dressing
The zest and juice of 2 limes (or 1 large)
1 tbsp white wine vinegar
2 heaped tbsp capers, drained
1 clove of garlic, crushed
2 heaped tsp seedy mustard
5 tbsp olive oil
1 tsp salt; freshly ground black pepper
1 tbsp tarragon, chopped (or dill or coriander)

Method
Preheat the oven to 200°C (400°F) Gas 6.
Mix all the dressing ingredients, except for the tarragon, together and set aside.

Blanch the courgettes in boiling salted water for 30 seconds – NO more! Drain, cool and leave rolled
up in kitchen towel to dry thoroughly. Snap off and discard the woody asparagus ends and cook in
well-salted boiling water for a few minutes until just tender. Drain and cool under cold water. Cut the
spears in half, or thirds if very long. Cook the samphire, if using, in boiling UN-salted water for 3
minutes, drain and cool under cold water. Roll up in kitchen towel with the asparagus, to dry.

Line a baking sheet with tinfoil and lightly grease with olive oil. If the salmon fillets are much thinner
at one end, tuck this underneath so they become a more even thickness. Cut each fillet into three
and place onto the baking sheet.

Dribble a little olive oil and some sea salt flakes over the fillets and put a tarragon leaf diagonally
across the top of each fillet. Cook for 5 – 6 minutes. The salmon should be opaque on the outside
and still a little underdone in the middle.

Put the noodles into a large bowl and season; add the courgettes, asparagus, reserving a few tips,
and all but a handful of samphire. Add the tarragon to the dressing and spoon 4 tablespoons into the
noodles. Incorporate everything very gently – hands are best! Pile up onto a platter, nestle the
salmon over the top, decorate with the reserved asparagus and samphire and spoon over the rest of
dressing. Scatter with cress or micro leaves, if using.

Get-Ahead
Prepare to the end of Step 4 up to 2 days ahead, and Step 5 if serving the salmon cold. Either way,
do not add the tarragon to the dressing until the last minute.
Hints and Tips
Serve warm or at room temperature.
M&S sell packs of 5 individually wrapped salmon fillets, approx 110 g (4 oz) each.
Alternatively, scatter watercress over a platter, top with (warm or cold) halved or quartered small
new potatoes, then the vegetables. Arrange the salmon on top and spoon over some of the
dressing. Hand the rest separately. Or, simply serve the salmon with new potatoes and a green
vegetable or salad and some of the dressing for an easy lunch or supper.
Use a 450 g (1 lb) piece of salmon fillet, cooked for 10minutes wrapped in foil, instead of individual
fillets, then break into large flakes over the noodles.
Use prawns as well as, or instead of, the salmon. To butterfly raw, shelled prawns, slice through the
middle of the prawn, cutting the main body in half but leaving 1 cm (½ in) of the tail end intact. Stir-
fry in a little hot oil for a minute or two until just pink.
Substitute fresh rice noodles for the egg noodles.
---